I thought I was really on top of things, starting to write this post ahead of time, and then yesterday got so busy I didn't get it posted & linked...oops :( Guess I'm toddling pretty slow this week!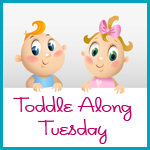 Long before we took the poverty plunge (deciding to stay at home with TC) I was a Goodwill devotee. I love Goodwill. I buy all of my jeans there, for $6.99 or less, and end up getting way nicer brands than I could ever afford retail. It takes a bit of work to sort through the racks and find my size, and then try on a big stack, but it's also really cool to try a bunch of different brands all at once and decide what works for me and what doesn't. For instance, I cannot handle low rise jeans (I actually have short legs and most of my height is in my waist/body). In some brands I can wear a regular length, but mostly I need a "short" or I'm gonna drag/cuff the ends. Old Navy runs large, Gap runs a little short, and Lee always feels really thick & heavy.
Goodwill was a GREAT resource for maternity pants too - again, $6.99 for most pairs and in my area they seemed barely worn. If I ever have a need for more maternity pants, I'm definitely going Goodwill - and I will spoil myself with 6 pair for the price of one new. I like to have options :)
Part of our busy day yesterday involved scouring a couple of Goodwill stores for outfits for the
Run For Your Lives Zombie 5K
this weekend, and I SCORED BIG TIME! It was "green tag day" so $1.49 for all green tag items, and I scored a pair of really nice jeans, and 9 costume components (no spoilers! but I picked up 5 shirts, 3 pr of shorts, and some brand new knee socks still in the packaging) all with green tags.
Goodwill, I salute you.
For shoes I've recently come around to the idea of "you get what you pay for" and started splurging on fewer pairs but better quality. I pretty much wear the same shoes every day, and my feet never hurt. Right now it's
my new Clarks
- still loving them, and worth every penny! Before that it was some patent mary janes from B.O.C., and for several years prior I was in love with Merrell slip ons. I like Marshalls for big discounts on all these brands, but with my last pair I just bit the bullet and bought straight from Clarks :)
For The Cupcake, I'm in love with Hannah Andersson, Baby Gap, and Children's Place, but of course I couldn't afford (or justify) those prices even when I was working. Luckily, the
Just Between Friends
sales have been AMAZING. This summer I bought TC a GIGANTIC wardrobe of 18 & 24 month summer clothes - awesome basics that we can mix and match like t-shirts, stretchy pants, tunics, and zip front sweaters. I have posted about my bargains a few times before - for the price of a few outfits (literally the retail cost of maybe 3 of these outfits) I got dozens of pieces. Not to mention shoes and toys too.The Cupcake's Easter outfit was one such find - a Baby Gap tiered skirt with attached leggings, matching ruffle sleeve shirt, and strawberry embroidered sweater (I think Gymboree?). She also has on a pair of WeeSqueaks shoes that were $7, so I believe this whole special occasion outfit was under $25